$1.58B in FY21 research volume spurs advancements in U-M research, scholarship
During a year in which the COVID-19 pandemic caused rapid declines in academic research productivity nationwide, the University of Michigan maintained its reputation as a leading public research university with $1.58 billion in annual research volume.
The university reported a record $893 million in federally sponsored research expenditures across the Ann Arbor, Dearborn and Flint campuses during Fiscal Year 2021, as well as a slight increase in research awards to 1,949.
Overall research spending declined only 2.3 percent during FY21, due largely to financial constraints posed by the pandemic that required many researchers to temporarily halt their work.
"Our research community has experienced a series of challenges that none of us could have ever predicted, and yet because of their tremendous commitment and expertise, the University of Michigan continued to develop and implement solutions to critical issues ranging from climate change and firearm violence to driverless vehicle technology and systemic racism," said Rebecca Cunningham, vice president for research and the William G. Barsan Collegiate Professor of Emergency Medicine.
The federal government is an essential partner to the U-M research enterprise, and that was evident during FY21 when it sponsored 56 percent of the university's total research spend.
The National Institutes of Health (NIH) remains the largest external sponsor of university research, and during FY21, U-M teams spent $574 million awarded by the federal agency to address the causes of and treatments for a variety of serious medical ailments, ranging from cancer and dementia to substance abuse and coronaviruses. This marks a $2 million decrease in research spending from NIH awards when compared to FY20, which is a direct reflection of how the pandemic negatively impacted research productivity across disciplines.
Research spending on awards from the National Science Foundation increased by 8 percent to $98 million during FY21. And U-M research expenditures funded by the Department of Energy increased by nearly 7 percent to $42 million.
Industry also sponsored a number of innovative U-M research projects during FY21, totaling $109 million — a 4 percent decrease from FY20, which is largely due to COVID-related budget concerns that impacted corporate partners nationwide.
The university temporarily restricted the use of institutional funds for research and scholarship purposes due to the pandemic, and as a result, research spending from university investments dropped 5 percent to $521 million. University research spending supports research-related infrastructure and equipment, and also sparked multidisciplinary initiatives.
As part of its commitment to serving the world through research and scholarship, U-M continued its efforts on translation and commercialization during FY21 so that society could benefit from university innovations. The result was 23 startups, 502 inventions and a record 287 license and option agreements with companies seeking to commercialize U-M research discoveries.
And university research continues to play a vital role in driving business growth and job creation, which was reflected in a FY21 report that shows the U-M research enterprise contributed $5.9 billion to the national economy over the past 18 years — $1.8 billion of which supported Michigan-based companies.
From 2002 to 2019, about 16,500 employees across U-M were supported by research grants each year, with 31 percent of those research-funded employees being students, according to the report produced by the Institute for Research on Innovation and Science.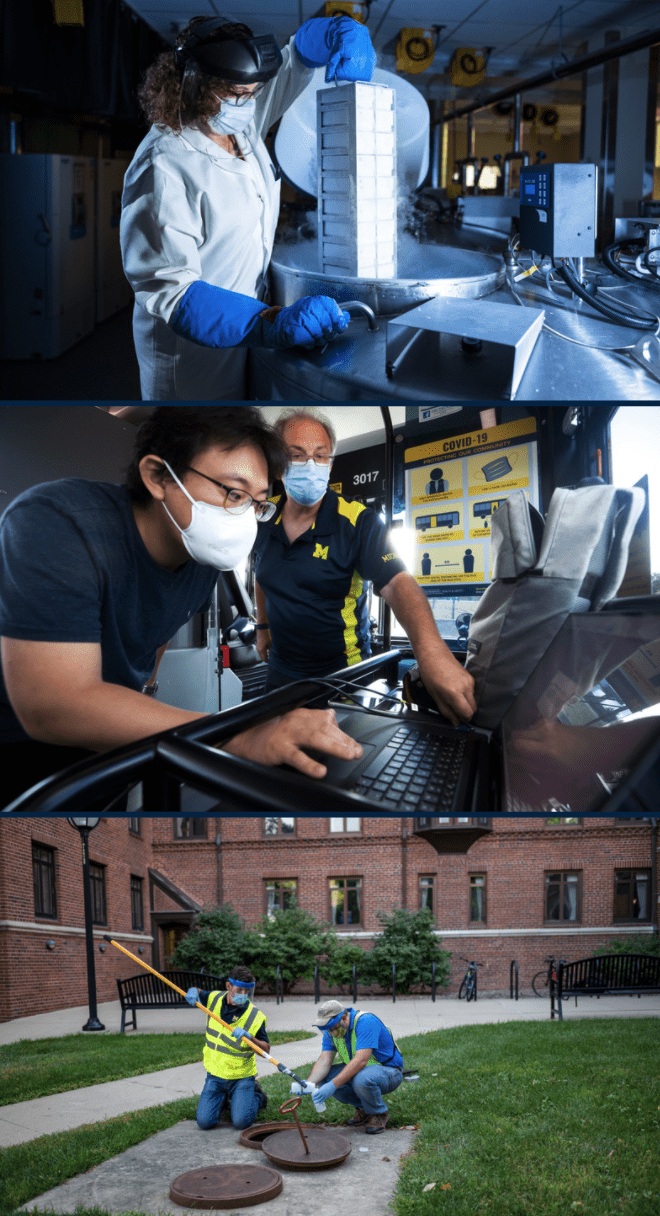 $1.58B
FY21 Total Research Expenditures
1,949
FY21 Research Awards