Strategy to Amplify Research and Scholarship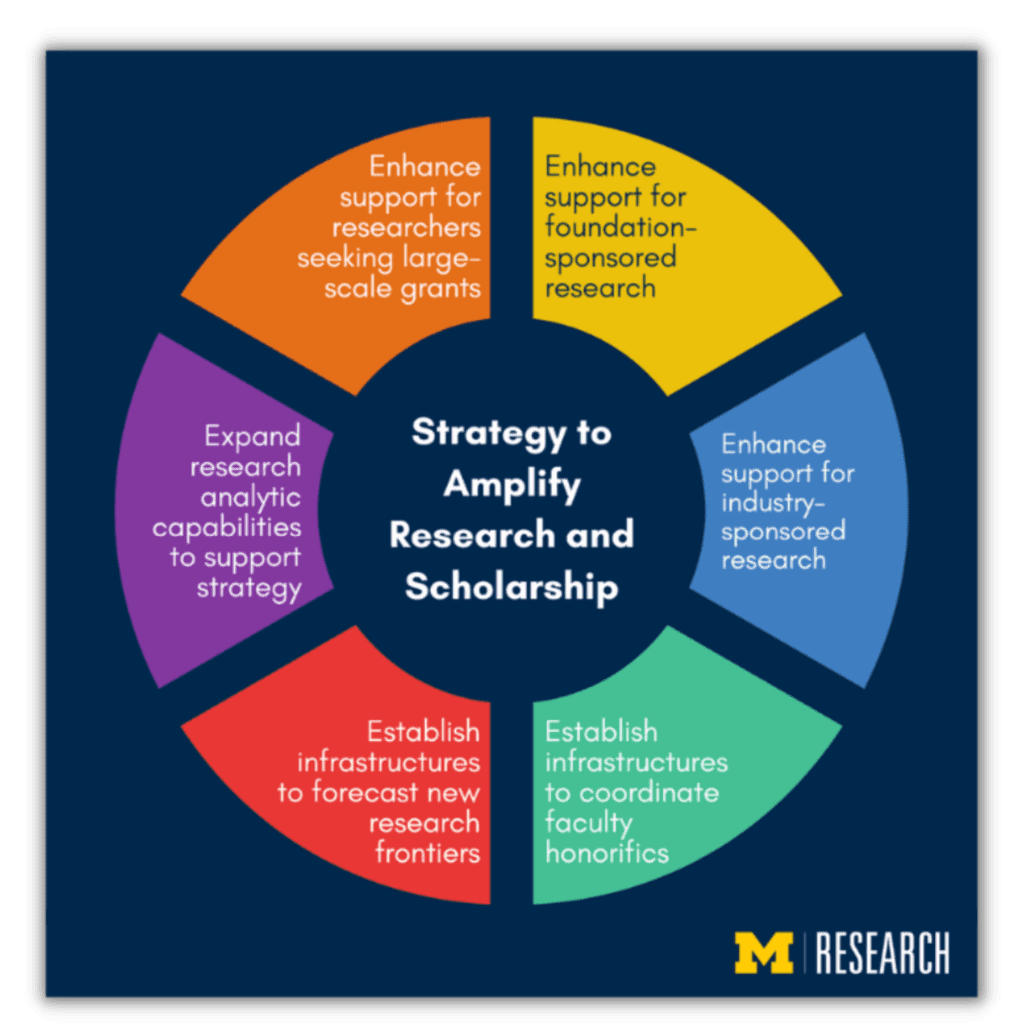 As communities continue to grapple with significant societal challenges, researchers from across the University of Michigan are seeking opportunities to amplify the impact of their discoveries and innovations in an effort to improve the quality of life for people across the state, nation and world.
To support their ongoing efforts, the University of Michigan has launched the first phase of its new presidential strategy that aims to bolster resources and personnel to help faculty achieve their research and scholarship goals in key strategic areas.
President Santa J. Ono has charged the Office of the Vice President for Research (OVPR) with developing and implementing the first phase of his Strategy to Amplify Research and Scholarship, which revolves around six pillars.
As one of the nation's leading public research universities, the University of Michigan is committed to prioritizing research, scholarship and innovation by investing in our outstanding faculty and supporting their exceptional work in ways that positively impact the world around us.
The Strategy to Amplify Research and Scholarship was designed specifically to provide our teams with the right amount of support so they can tackle society's greatest challenges and flourish.
Enhance support for researchers seeking large-scale grants
The U-M research enterprise relies on significant levels of external funding to support research, scholarship and creative practice. Large transformational grants empower faculty to perform high-impact research, catalyze new sources of innovation and increase U-M's visibility and prestige at scale. Through an update to the Bold Challenges Initiative (which ran as a pilot in 2021), OVPR will support transformative collaborations that convert U-M's immense individual talents into large-scale successes.
Tactics
The new Bold Challenges strategy features events, programs and services.
Bold Challenges events "meet people where they are" through empowering workshops, seminars and networking opportunities. These events offer team building activities, opportunities to interact directly with funders and develop networks to increase cross-school collaborations.
The Bold Challenges programs are designed to build faculty skills, knowledge and capacity so that U-M researchers are ready to pounce when big opportunities arise. Its two new programs are called BOOST and ACCELERATE:
BOOST is an annual cohort-based program to support multi-school teams working on significant transdisciplinary projects with substantial potential for large-scale funding, providing up to $50K to use for time releases and/or other incentives.
ACCELERATE offers "precision service" to support and guide teams that are seeking transformational grants through an identified funding source, including:

"McKinsey-type" consulting and/or proposal development/project management specialists tailored to meet team needs and funder requirements.
Up to $250K in incentive-based support to meet project and team needs, including release time or preliminary studies, that strengthen proposals.
Bold Challenges services offer a broad range of research development and proposal preparation assistance for U-M researchers who have bold external funding ambitions.
Enhance support for foundation-sponsored research
Grants and awards from foundations and other nonprofits regularly support high-risk science and/or early career proof-of-concept projects that federal programs are reluctant to fund. They also provide resources for underfunded topics and/or to some underrepresented groups, particularly in areas around community engagement and social justice.
Tactics
Following an extensive internal review of nonprofit-sponsored research from OVPR and the Office of University Development in 2022, OVPR developed a multipronged approach to improve its support of grantseeking from these sources, including:
Provide resources to researchers (e.g., grant writing toolkits, proposal development support, updated budgeting guidelines) seeking foundation funding, and highlight success stories of impactful U-M research enabled by these funding sources.
Develop a strategic outreach plan for key foundations and use forecasting to identify funding opportunities for researchers.
Begin addressing key structural and cultural barriers to foundation funding by facilitating discussions about incentives and policies with university stakeholders, and working closely with OUD to provide increased coordination across faculty and staff.
Enhance support for industry-sponsored research
Industry-sponsored research constitutes a critical component of the research enterprise. Competition for strategic, large-scale industry-university research partnerships is increasing with leading universities allocating expanded resources toward these efforts. In order to successfully remain competitive with its peers in securing desirable industry partnerships, U-M must excel in both internal (faculty service and contracting efficiency) and external (outreach and new business development) domains.
Tactics
Following a six-month review and assessment in 2021 that involved faculty and industry feedback, along with extensive benchmarking of leading peer institutions, U-M developed a three-pronged strategy for increasing its corporate research engagement through the activity of its newly formed Corporate Research Alliances within Innovation Partnerships:
Provide faculty-facing corporate business development support (framing statements of work, drafting term sheets, etc.) to convert their corporate relationships and conversations into successful sponsored research collaborations.
Engage in business development outreach in areas identified as growth opportunities that align with U-M research strengths and intellectual property portfolios, such as life sciences/biotechnology.
Grow and expand existing corporate research engagements by allocating alliance management support for major and strategic corporate research sponsors.
Establish infrastructures to coordinate faculty honorifics
External honorific awards are a critical component of faculty recognition and career development, and tie in closely to future research success. OVPR aims to boost faculty nominations for many external honorifics by increasing coordination and sharing best practices across the institution, ensuring equitable nomination processes, and expanding the ability to track metrics and success rates.
Tactics
In partnership with the Provost's Office, Rackham Graduate School, and U-M schools and colleges, OVPR will lead and support a community of practice for faculty and staff who are tasked with soliciting nominations in their units to develop and distribute best practices for equitable and strategic nominations of U-M researchers.
Launch an external-facing website to promote U-M researchers who have been recognized across all disciplines, and an internal database to coordinate nominations across units, track successes and plan for future submissions.
To remove burden on nominators and/or nominees, a new team based in OVPR will provide direct support for the submission of several highly prestigious award nominations, including coordinating letters of support and tailoring nomination packages to specific audiences.
Establish infrastructures to forecast new research frontiers
U-M teams and investigators will benefit from central sources of information about emerging funding opportunities yoked to relevant expertise and research support capabilities. This Amplify pillar will work to develop broadly relevant tools to allow timely identification and both broad and targeted dissemination of information about emerging funding opportunities from both federal agencies and non-federal funders, such as corporations and foundations.
The Forecasting pillar will partner with existing OVPR units, such as Federal Relations and the other components of Amplify Phase 1, to systematically use publicly available data in concert with cutting-edge analytics developed under Pillar 6 to identify promising opportunities, match them with potential teams and connect both with the relevant research support capabilities being developed in Bold Challenges, Foundation and Industry Sponsored research. This work will both increase the visibility of new opportunities, provide potentially interested faculty across U-M with a 'head start' on developing relevant ideas and identifying potential sources of research development support, and in so doing, expand both the scope and the impact of the other Amplify pillars.
Expand research analytic capabilities to support strategy
In Fiscal Year 2021, U-M spent $1.7 billion on research activities across essentially the entire range of human knowledge. Yet, as an institution, there is much more that U-M can learn about its own research portfolio. By doing so, U-M can effectively plan for the future, strategically invest to maintain and expand its research capabilities, identify and pursue knowledge frontiers, work across unit boundaries and understand the full impact of its research.
OVPR launched the Research Analysis and Data Integration Office (RADIO) on a pilot basis in 2021 to analyze and integrate many types of data to serve, support and strengthen U-M's research, scholarly and creative enterprise. Since then, RADIO's work has supported efforts in OVPR, Government Relations, Communications, Finance and the Provost's Office, contributing to efforts from COVID-19 response and recovery to identifying the underlying opportunities that underpin the Amplify Research Strategy.
This pillar will deepen and expand U-M's capabilities for research analytics, including new forecasting capabilities, the development and implementation of new tools to support Bold Challenges, Foundation and Corporate Research and Honorifics, and improved service to schools and colleges and central administration across the breadth of U-M's research, scholarly and creative practice portfolio.