Wildfires, Communities & Climate Change
Communities across the western United States face an existential crisis. As forests become drier and thicker with vegetation, and development encroaches further into forested areas, wildfires grow larger, more frequent and more damaging. Professors Paige Fischer and Steve Yaffee, along with their colleagues at the University of Michigan School for Environment and Sustainability, are working with practitioners across the west to address this growing concern.
Research Profile: Paige Fischer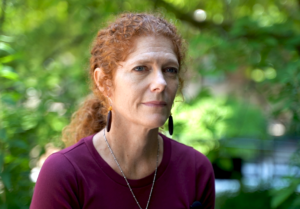 Dr. Paige Fischer, an associate professor at the School of Environment and Sustainability (SEAS), was working towards earning her Ph.D. in Forest Resources social science at Oregon State University, researching private landowners' behavioral motivations to conserve oak habitat, when she recalls wildfires becoming a major public policy issue for the first time. "The community of people who were involved in managing and conserving forests started realizing that it wasn't only about protecting forests from exploitation anymore. The bigger issue was fire and the fact that forests had become unhealthy because of past management, but also because of climate change."
Fischer pointed out that as forest fires have become a more serious issue in the US, those involved in the forestry sector must now consider managing for fire before all other issues. The increase in the severity and number of forest fires in the past years has brought together historically adversarial parties; conservationists and the forestry industry now have a common ground.
In addition to her experience researching the relationships between forestry and the surrounding community in the western United States, Fischer also spent time abroad studying how different communities around the world derive their livelihoods from forests. After receiving her bachelor's degree in cultural anthropology from Hampshire College, she received a Fulbright Scholarship to study cultural influences on forest use in Sri Lanka. She then went on to work on international policy in the Pacific Rim for a conservation organization based in San Francisco, Pacific Environment. "I've been really interested in what compels those people to manage differently in response to change or in anticipation of future change."
Currently, she researches human behavior in the context of environmental change, specifically in forests. Fischer will lead the Berman Western Forest and Fire Initiative, which was recently established by a philanthropic gift from Steve (BS '76) and Kathy Berman.
The initiative will involve U-M faculty, postdocs, and students from a wide range of disciplines including behavioral sciences, ecology, engineering, and economics. They'll work with researchers based in the western United States in an effort to better understand and manage how to maintain a healthy relationship between forests and the communities that depend on them.
The ability to bring together social and natural scientists from different backgrounds is part of what led her to join SEAS. Fischer believes that complicated issues require multifaceted solutions and can only be achieved by a group of people with diverse research backgrounds. "If you have the right structure, that group can not only be doing high-quality work within their discipline or field but also, leveraging each other's work by communicating and combining knowledge across disciplines."
In addition to the collaborative nature of the work, Fischer also enjoys how challenging it can be. "We're living in an era of climate change and of population growth. We're not going to just be able to solve it. It's complex and it's a long-term thing. It's that kind of stuff I find really interesting."