About the Research Data Stewardship Initiative
As a public research university, U-M has a responsibility to equitably and securely expand the accessibility and transparency of our research data. In addition, funding agencies, publishers, and others have been increasingly requiring or incentivizing making research data publicly available. These mandates follow a general trend of more open scholarship within the research community, including making data more available to allow to replicate or reproduce the research, or to reuse the data that was generated for new research.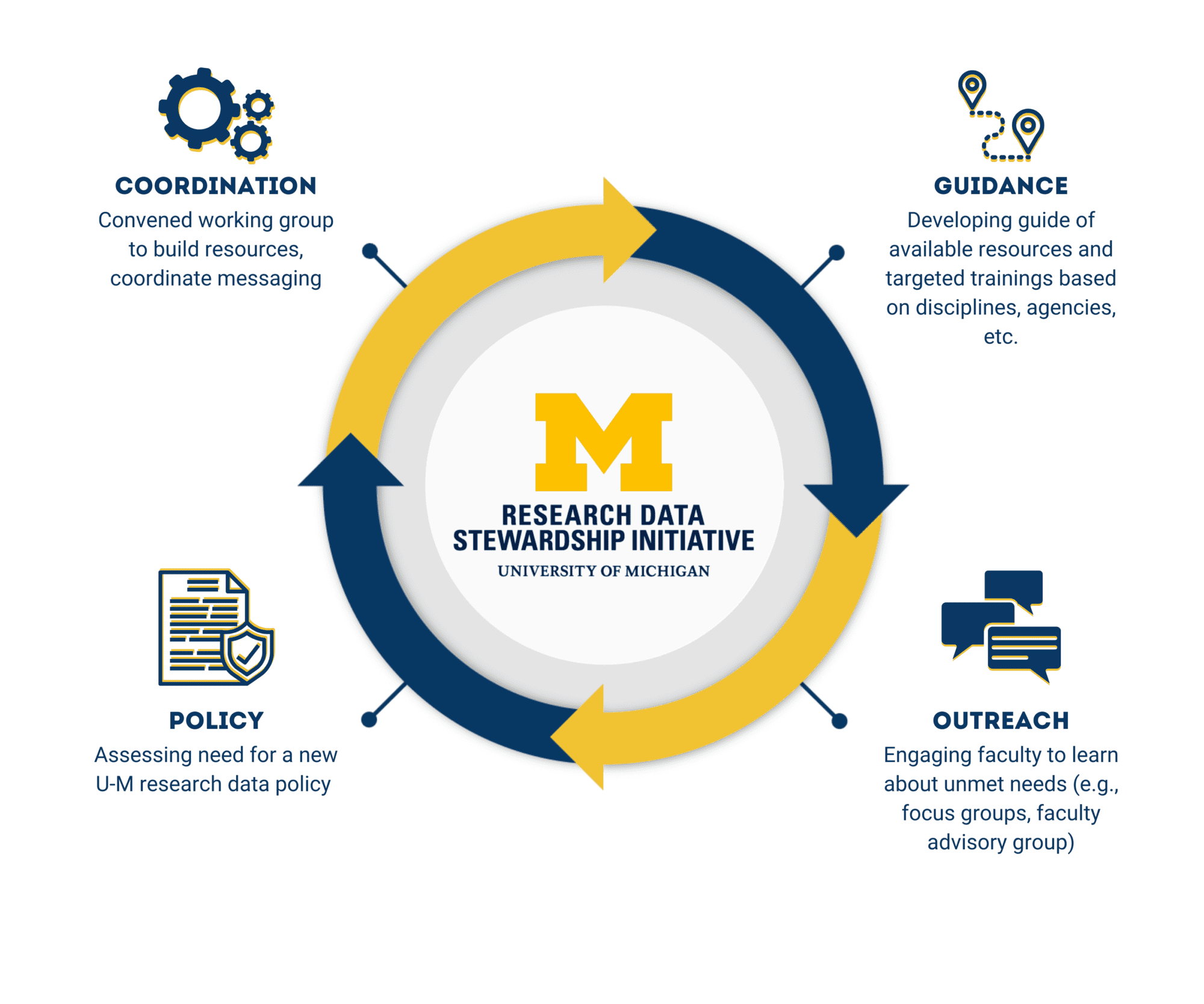 The RSDI is led by the Office of the Vice President for Research, in partnership with many other data support units across the university. The working and faculty advisory groups, membership information below, are crucial to the initiative's success.
Faculty Advisory Group
Name
Title
Jeff Fessler
William L. Root Collegiate Professor, Electrical Engineering and Computer Science
Professor, Radiology
Professor, Biomedical Engineering
Claudia Figueroa-Romero
Assistant Research Scientist, Neurology
Margaret C. Levenstein
Director, Inter-university Consortium for Political and Social Research
Executive Director, Michigan Federal Statistical Research Data Center;
Research Professor, Survey Research Center, Institute for Social Research;
Adjunct Professor of Business Economics and Public Policy, Ross School of Business
Hernan Lopez-Fernandez
Associate Chair for Collections, Ecology and Evolutionary Biology Museums
Associate Professor
Associate Curator of Fishes
Arthur Lupia
Research Professor, Center for Political Studies
Gerald R Ford Distinguished University Professor
Emily Maggioncalda
Co-President, University of Michigan Postdoctoral Association
Jason Owen-Smith
Executive Director, Research Analysis and Data Integration Office
Professor of Sociology
Research Professor, Institute for Social Research Survey Research Center
Robert J. Ploutz-Snyder
Research Professor
Assistant Dean of Research and Scholarship
Director, Applied Biostatistics Laboratory
Ricky Punzalan
Associate Professor of Information
Hakam Tiba
Assistant Research Professor, Emergency Medicine
Director, Weil Institute Preclinical Critical Care Laboratory
Working Group
| | | |
| --- | --- | --- |
| Name | Title | Unit |
| Nick Wigginton | Assistant Vice President for Research – Strategic Initiatives | Office of the Vice President for Research |
| Drew Bennett | Director of Software and Content Licensing | Innovation Partnerships |
| Rick Brandon | Associate General Counsel | Office of the Vice President & General Counsel |
| Jake Carlson | Director of Deep Blue Repository and Research Data Services | University Library |
| Erin Kaleba | Director, Data Office for Clinical and Translational Research | Medical School, Office of Research |
| Kelsey Keeves | Communications Specialist | Office of the Vice President for Research |
| Lindsey Mitchell | Project Senior Manager | Office of the Vice President for Research |
| Jess Peirson | Associate Director | Research Integrity |
| Craig Reynolds | Assistant Vice President for Research – Sponsored Projects | Office of Research and Sponsored Projects |
| Sara Samuel | Informationist | Taubman Health Sciences Library |
| Svetla Sytch | Assistant Director of Privacy and IT Policy | ITS Information Assurance |
| Diane Lehman Wilson | Administrative Manager | Medical School Regulatory Affairs |
Questions?
We are interested in hearing from you! If you have any questions or relevant information or resources to add to this site, please complete this form.