Extremism and Social Media
Extremist groups are especially adept at hiding in plain sight by using language that differs only slightly from acceptable speech or employing thinly-veiled phrases that mask nefarious intent. Professor Libby Hemphill is developing a culturally sensitive adaptive language model to detect and effectively model the evolution of online extremist rhetoric in an effort to help advocacy groups view and anticipate this progression.
Research Profile: Libby Hemphill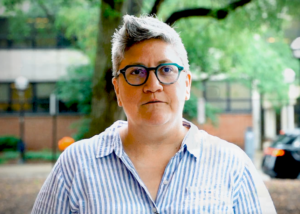 Libby Hemphill's initial interest in computers and coding was limited to having the coding know-how to run her favorite computer games. She didn't become interested in computational science until she took a college course on Java and realized computers could be used as a tool. At the same time, social media was becoming a part of the mainstream culture, which eventually led her to combine her research interest in computation, politics, and celebrity culture all at once.
Her broad range of research interests is supported by her multiple affiliations across the University of Michigan. In addition to directing the Resource Center for Minority Data at the Inter-University Consortium for Political and Social Research and serving as associate director for the Center for Social Media Research, Hemphill is an associate professor at the School of Information and research associate professor at the Institute for Social Research. She is also affiliated with the Institute for Research on Women and Gender, Digital Studies Institute, and Michigan Institute for Data Science.
"I think my favorite part of this field is that there isn't a field, there are many."
"And so there are lots of different ways on any given day, I might get to think about a data structure or an ethical issue, or I may get to work with a student who is learning something new and has an aha moment about something that they understood but couldn't demonstrate, or that I get to talk to somebody who knows something that I didn't about why a pattern that I observe in social media might exist."
She received both her master's and Ph.D. from U-M, but had initially planned to attend a different school before Stephanie Teasley, a research professor for the School of Information, reached out to her about the program.
"I liked the way that she talked about how to be excellent in research and how to be a good partner, a good mom, and a good citizen. All these things that I care about, but I wasn't sure how to do in academia."
Early in her faculty career, during the summer of 2011, Hemphill was transitioning away from her dissertation project and looking for the next research subject, when her interest in social media, politics and celebrity culture intersected. She was on Twitter, following the debate on New York's Marriage Equality Act, and noticed that while many of the politicians she followed weren't tweeting about the act, several of the celebrities she followed were.
"I was looking for a research project that I cared about and that could be meaningful to me. It brought together my interest in social media as a phenomenon and politics and engagement and what are politicians' responsibilities to us as constituents, and the role of celebrity and celebrity culture in other aspects of culture."
She currently studies politicians, nonprofit organizations, and television fans to understand how people use social media to organize, discuss, and enact social change.
"We get to wrestle with the ethical questions around access and who is represented in the data and how we might be able to use that data for what research. There are so many questions that I still want to work on."
She also develops automated mechanisms for moderating and classifying content in social media in order to reduce toxicity in online conversations. She hopes her research will lead to greater recognition of the ways in which hateful conversations and messages that are repeated and boosted online hurt not only the individuals targeted by the content, but also the community as a whole.
Another part of Hemphill's research interests centers around representation and access of data, focusing not only on the ability to get data, but also the tools needed to analyze it.
"There are many people who are well equipped intellectually to analyze this data, but they can't get it. And availability is not access. My ability to use the object with the skills that I possess is part of access, and my role as an archivist is to help make sure that more people have real, meaningful access to this data. Because if we're excluding them, we're excluding their insights. And so, selfishly, I want to know the answers to their questions."